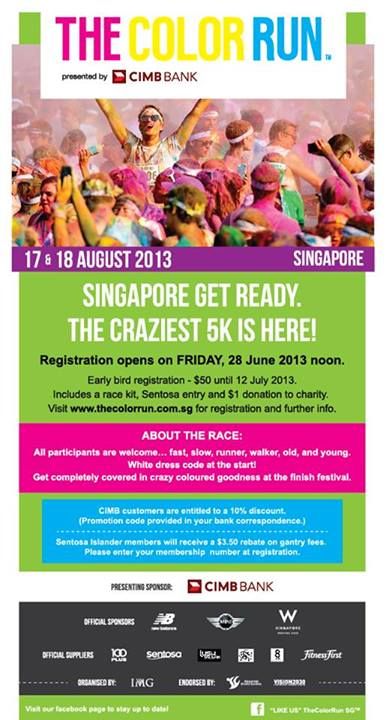 Website: The Colour Run Singapore
Facebook: https://www.facebook...lorRunSingapore
 

Q: WHAT!?!?
A: 
The most colorful 5k in Asia!   

The Festival of Colors Run is one part HOLI, one part RUNNING and a whole lot of FUN!   

Q: HOW? 
A: You will start off white as a ghost and as you run we will reward you for each kilometer you complete with a blast of color.  By the time you reach the finish line you will look like you had a fight with a rainbow and lost.     

Q: WHERE?
A: We would love to color all of Asia right now but like Lao Tzu says, "A journey of a thousands miles begins with a single step."  We are starting our journey in Singapore and will be spreading to other cities from there.  

Q: WHO
A: This run if for anybody and everybody.   

Sorry, NO pets allowed.  Perhaps Rex, Roxy and their buddies can join us in the future, but for now, the pleasure of running in this event is only for humans.  

Q: Why?
A:  WHY NOT!?!? It'll be so much fun!
Individual Runner/Walker
$50.00 SGD - Early Bird Registration until 12th July.  All entries include Sentosa gantry fee and $1 donation to charity. 
If you miss the early bird discount, tickets are $55.00 SGD each.
Location: Sentosa - Beach Station Open Air Car Park
Time: 5pm SHARP for Race Start
Run Route
Comments:
I read from the paper today about a Colour Run - a 5K non-competitive run where colours are thrown at you at designated checkpoints by volunteers.
Nothing has been finalised yet but the registration fee apparently cost US$40 in the states. 
Honestly maybe I'm a stick in the mud but I really dun understand the pt of this run; nor do I find having coloured powder thrown at me fun.
And to pay that much for a 5K non-charity run? Are they mad??
So is anyone really interested in this run - seriously??
Edited by lonewolf, 27 June 2013 - 05:44 PM.